Cornwall estate's curfew 'could help riot cities'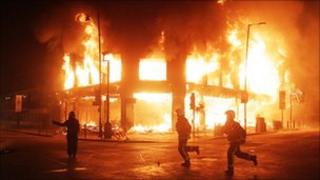 A voluntary curfew, pioneered on a Cornish housing estate, could help cities recovering from last week's riots, according to its residents.
Anti-social behaviour was reduced when the curfew, called Operation Goodnight, was introduced on Redruth's Close Hill estate three years ago.
Youngsters under 16 had to be at home by 21:00 BST.
Residents have since shared their initiative with people in other parts of the country.
Anti-social behaviour and vandalism was widespread in the area before the curfew. For six weeks during the school holidays in 2008, residents reported a much calmer Close Hill.
'Pro-active policing'
Community worker Kevin Hawke, the Redruth North neighbourhood manager, believes Cornwall's curfew could have widespread appeal following the recent riots.
"I think it works with pro-active policing, that's the key to it, properly resourced neighbourhood policing teams, who can deliver what we have delivered here.
"It has been replicated throughout the country and has been shown to be successful."
At Close Hill crime and anti-social behaviour fell drastically.
In one street, crime was down by 90%, it was claimed. Althought Operation Goodnight has not been repeated in the area, PC Steve Chapman said it had left a lasting legacy.
"The problems before Operation Goodnight certainly seem to have got better.
"As a result of which the incidents of anti-social behaviour has reduced, including crime as well."