Leicester's mayor is 100 not out. So who's next to bat?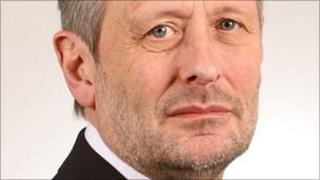 As England's cricketers prepare for the final test match against India, there's one politician who's just one off his own century.
Labour's Sir Peter Soulsby set himself a target of 100 policy pledges in the first 100 days since being elected city mayor in Leicester.
Filling in pot holes and a no tolerance approach to litter were early pledge headline grabbers.
Sir Peter may have clocked up his first 100 days in office, but readily admits that his unfulfilled 100th target - to quit the council's rundown administration block - will take a little longer.
Now he's embarking on a series of meet-the-people sessions to get feedback for his next 100 days... and much further beyond that.
"My list of 100 pledges was about making it very clear it's not just business as usual at the city council," he said.
More mayors?
Next May, voters in 11 of England's biggest cities get the chance to decide on whether they want to follow the example of Leicester or London in having an all-powerful, directly elected mayor to run their city.
Labour leaders in other Midlands cities such as Birmingham are very enthusiastic about the idea... but not in Nottingham.
The reason? Labour here estimate the cost of setting up a mayoral system is just over £1m.
They say that it simply can't be afforded at a time when council budgets are being squeezed. In the words of the city's Labour leadership, they don't want a "millionaire mayor".
"No one's asked for an elected mayor in Nottingham. We've had no petitions wanting a referendum on the issue. There's just no demand for it," Councillor Graham Chapman, the city's deputy leader told me.
"It just doesn't offer value for money."
Battle brewing
Advocates for elected mayors say the role gives greater policy focus and a high profile.
Controversially, Graham Chapman points to the political response from Boris Johnson to the London riots to argue against the mayoral model.
"That high profile resulted in disputes between the mayor and the police, and the mayor and the government.
"In Nottingham, we had no problems at all. There was good co-ordination because everyone knew their role," he added.
So with Nottingham set against having an elected mayor, is the city heading for another battle with the government?
The Communities Secretary Eric Pickles will be watching closely in case he feels the city council is attempting to deliberately obstruct the referendum.
Expensive irrelevance?
But Nottingham is unlikely to be alone and may find allies - such as Sheffield City Council.
Labour leaders in Sheffield share Nottingham's scepticism about switching to having an all-powerful mayor.
Also, Nottingham's political leadership is bracing itself for another tussle with the Communities Secretary over a fresh round of big cuts to its budget.
It sees the referendum as an expensive irrelevance.
The government believes a referendum gives the final choice to the people and argues elected mayors offer more leadership and accountability.
In Leicester, Sir Peter Soulsby will buy into that.
At 100 not out, he'll continue to bat for having elected mayors.