Judge Andrew Gilbart: Looters took advantage of chaos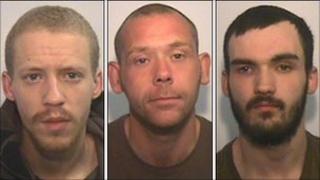 "The common feature of the crimes that night is that all those involved took advantage of the mayhem and disorder."
That was the summing up from Judge Andrew Gilbart QC, honorary recorder at Manchester Crown Court.
Staring either impassively at the floor or straight ahead, all four defendants sat together flanked by guards.
This court is not the typical setting for crimes like theft and shoplifting, which are normally dealt with at magistrates' courts.
But these were the first crown court sentences to be passed following the riots which took place on 9 August, and Judge Gilbart was making an example of the defendants.
The first to be sentenced was Stephen Carter, 26, of Salford, for "theft by finding". He was sentenced to 16 months in jail and shook his head aggressively as he was sent down.
The judge remarked Carter had only been out of prison for a month and, although struggling with an alcohol problem, had to be given a jail term.
Carter was found with £500 of clothing from Pretty Green, the store owned by former Oasis frontman Liam Gallagher, which he claimed to have found in the street.
Next was David Beswick, 31, from Eccles, who was given 18 months for handling stolen goods.
'Spectacularly stupid'
His defence team argued for a non-custodial sentence on the grounds he was holding a 37" flat screen television for a friend.
Beswick admitted to the court that he had taken part in "spectacularly stupid behaviour".
Michael Gillespie-Doyle, 18, from Openshaw, was the youngest to stand before the court.
Gillespie-Doyle was sentenced to two years in a young offenders' institute after being caught stealing from a Sainsbury's store in Manchester City Centre.
"You have a bad record," Judge Gilbart told him. "I am sorry you lost your parents in your early teenage years, but you have had every chance to put your life straight."
Gillespie-Doyle told his arresting officers: "I only did it because everyone else was."
Linda Boyd, 31, and originally born in Dublin, also appeared at Manchester Crown Court, received a 10-month suspended sentence and an 18-month supervision order.
'Sustained attack'
The court heard she was found by a police officer with a bag full of cigarettes and alcohol, so heavy she could not carry it.
Having been a heroin addict for 15 years, Boyd amassed 145 offences, adding to a total of 62 previous convictions and had already served "every imaginable kind of sentence," the court was told.
The court also heard a victim statement from Terry Sweeney, the assistant chief constable of Greater Manchester, in which he spoke of hundreds of similar incidents across Manchester City Centre and Salford.
He said police had come under "sustained attack" and said the public had been terrified.
Meanwhile, over in the magistrates' court, a steady flow of people were appearing charged with similar activity during last week's riots.
Most were refused bail and their cases fast-tracked to appear before crown court, again showing the severity with which the criminal justice system is dealing with rioters and looters.