Man, 22, arrested over spate of fires in Warrington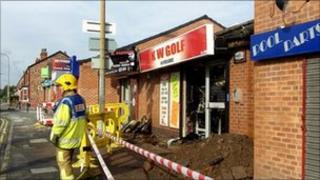 A 22-year-old man has been arrested after a spate of fires in Warrington in which two people had to be rescued.
Firefighters were called to a golf shop in Lovely Lane just before 02:00 BST. A fire there had spread to a nearby bar, which had a flat above.
Two people were rescued from the flat. The shop, bar and accommodation above were all badly damaged.
Cheshire Police said the arrested man, who is from Warrington, has been held on suspicion of arson.
A wheelie bin was also set alight and pushed up against a property in Regency Court, which also set fire.
It led to a gas pipe inside being ignited and the evacuation of several houses as a precaution.
Two other, smaller, fires were also reported.