TJ Hughes closures: Firm to shut 12 more stores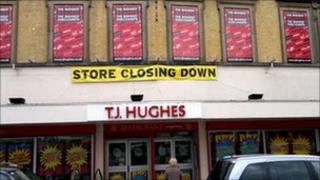 A further 12 TJ Hughes stores are to close over the next few days with 585 staff being made redundant.
Stores in Belfast, Bootle, Corby, Coventry, Derby, Oldham, Plymouth, Redditch, Romford and Scunthorpe will close on Sunday.
The Hanley and Warrington stores will shut next week.
Forty two stores have now been closed by administrators and about 2,200 staff made redundant. Six stores have been bought by Lewis's Home Retail Limited.
'Bitterly disappointing'
The Liverpool-based group called in administrators Ernst and Young in June - putting 4,000 jobs at risk - after a difficult period of trading.
GA Europe bought the chain's £10m debt and is overseeing clearance sales at the stores across the country.
A spokesperson for the Union of Shop, Distributive and Allied Workers (Usdaw) said the new closures were "disappointing" but "predictable".
He said: "These latest closures are bitterly disappointing but are now entirely predictable despite the claims of the administrators that they are still trying to find a buyer for the remaining stores.
"They appear to be operating to a pre-determined closure timetable which they have decided to keep under wraps rather than be open and honest with staff and their trade union."
"Our members are understandably extremely angry at the way they are being treated.
"Loyal and hardworking staff are keeping stores open and running despite their precarious situation and as an absolute minimum they should be getting regular and accurate information from the administrators and proper notice and consultation before being made redundant."