Isle of Wight Culver Down car plunge couple named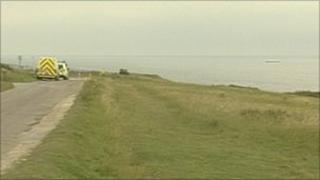 A married couple killed when their car went over 328ft (100m) cliffs on the Isle of Wight have been named.
An inquest at Newport Coroner's Court heard Paul Charles, 53, and his wife, Jacqueline, 48, were living apart at the time of their deaths.
The court heard they both died from multiple injuries consistent with a fall on Wednesday evening.
The coroner's office said toxicology samples had been taken for analysis and the hearing was adjourned.
Mr Charles lived in Albert Road in Sandown, and his wife in Union Road in Ryde.
The Renault Scenic they were in was seen to drive off the edge of Culver Down cliffs between Bembridge and Sandown on the Isle of Wight before crashing on to the beach below at around 20:00 BST.
Coastguards said the car was thought to have been travelling at more than 30mph (48km/h) when it went over the cliffs.
Mike Forsyth-Caffrey, sector manager, said: "Solent Coastguard received a 999 call from a person saying they had seen a car from the Culver Haven car park disappear over the fields and over the cliff.
"From a standing point in the car park they would have overcome the ditch and the barbed wire fence barrier before they have gone over."
He added that the speed at which the car was travelling meant it did not hit any of the cliff on its way down.
Chinook removed car
Mr Forsyth-Caffrey said the man was believed to have been at the wheel as his body was found on the driver's side of the vehicle.
Police investigations into the incident are continuing but it is not being linked to "any other deaths or criminality".
The car was removed from the bottom of the cliffs by a RAF Chinook helicopter on Friday morning.
Insp Colin Hall said: "Our investigation is focused on the couple's behaviour shortly before the car went over the cliff.
"We must consider every possibility at this early stage but detectives are not looking for anyone else suspected of being responsible for the deaths.
"We're continuing to appeal for more witnesses who may have seen a couple in a blue Renault Scenic car in or near the top car park at Culver on Wednesday evening."