Appleby Horse Fair: 'Gypsy wedding' stab case dropped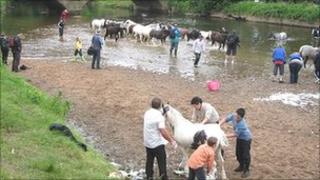 Two men charged in connection with the stabbing of the son of My Big Fat Gypsy Wedding star Paddy Doherty at Appleby Horse Fair have been cleared.
David Doherty, 26, of Salford, Greater Manchester, suffered lacerations to his lower back when he was attacked at the fair in Cumbria on 5 June.
Two South Yorkshire men were accused of causing grievous bodily harm.
The case against them was dropped at Carlisle Crown Court on Wednesday due to lack of evidence.
Tommy Morrison, 29, of Toll Bar, Doncaster, and Luke Morrison, 26, of Barnsley, had been accused of causing Section 18 grievous bodily harm.
A court spokeswoman said: "This case is now discontinued due to lack of independent evidence."
Cumbria Police appealed last month to anyone who filmed the incident on their mobile phones or cameras or anyone who witnessed the attack to come forward.
The annual horse fair is one of Europe's largest gatherings of Gypsies and travellers.