Charges over Darlington versus Newcastle pitch invasion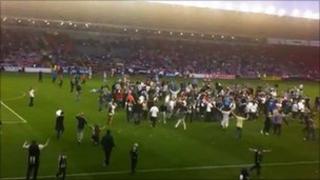 Four men have been charged in connection with disorder at a pre-season friendly match in Darlington.
Dozens of supporters invaded the pitch and brawled during the Newcastle Vs Darlington game on 15 July.
The four, aged between 17 and 23 and from Tyneside, have been charged with a public order offence and going into the playing area.
The 17-year-old will appear at youth court on 2 September, the others before magistrates in Darlington on 30 August.