Passenger numbers drop at East Midlands Airport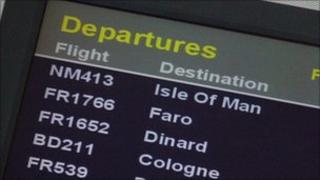 Passenger figures and profits dropped at East Midlands Airport in the past year as the recession hit travellers, the airport's annual report says.
The airport had 400,000 fewer passengers from April 2010 to April 2011 with 4.1 million people flying from the regional hub.
Manchester Airports Group, which runs the airport, said the Icelandic volcanic ash crisis also hit profits.
The airport saw profits drop by £2.6m to £7.1m in the 2010-11 period.
Easter increase
The airport lost about £600,000 in revenue as a result of cancellations caused by the ash cloud in April 2010, the firm's report said.
"The worldwide aviation industry has experienced a challenging year, significantly impacted by reduced passenger volumes across all markets with further reductions as a result of the volcanic ash cloud experienced earlier in the year," the report said.
The airport has flights to a variety of European destinations including Palma, Alicante, Malaga, Faro and Tenerife.
Passenger numbers have increased slightly in the early part of 2011 with an increase in numbers over the Easter period, an airport spokesman added.
About 70,000 passengers used the Castle Donington-based airport in Easter 2010, an increase of 1.1% compared to Easter this year.