Call for planned Dartford toll rise Christmas delay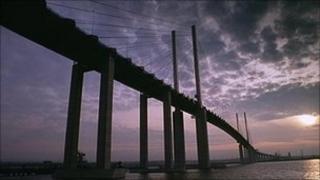 The government is being urged to delay plans to increase the Dartford Crossing charges until after Christmas to help customers and retailers.
The Department for Transport (DfT) wants to up the car tolls from £1.50 to £2 in November and £2.50 in 2012.
The British Retail Consortium (BRC) said the first proposed increase would hit traders during the important run-up to Christmas.
A consultation on the proposals runs until 23 September.
The crossing, which comprises a dual tunnel northbound and bridge southbound, links Essex and Kent and carries 150,000 vehicles each day.
The Department for Transport said the increased revenue would be used to remove toll booths and increase traffic flow.
Richard Dodd, of the BRC, said: "Retail is having a really tough time at the moment and of course that's because customers are having a tough time.
"Christmas is of course always tremendously important for most retailers.
"Some of them do 50% more business in the couple of months leading up to Christmas then they do at their lowest times of the year, so it really matters and it especially matters this year."
He added: "The last thing we need is this massive hike in the Dartford river crossing tolls to come in just at the run-in to Christmas.
"For goodness sake if you've got to do this don't do this in the run-up to Christmas."
"It'll make it tougher for retailers because it will be more expensive for customers to go from one side of the river to the other in either direction to shop and of course it will add to retailers' transport cost which in the end will work through and push up prices."
'Reduce congestion'
A spokesman for the DfT said: "It is clear that in the absence of the proposed increased revenues, we would not have been able to prioritise improvements which will benefit the millions of crossing users.
"We are committed to introducing free-flow charging to reduce congestion and explore provision of new additional crossing capacity.
"The Highways Agency is also trialling new operational guidelines for suspending charges to help traffic flow when congestion is particularly severe.
"To allow for the investment this needs the government announced in last year's Spending Review that it intends to increase Dartford charges this year and next.
"The public consultation began on June 30 and will run until September 23, following which responses will be carefully considered and an announcement made."