Taxpayers to foot Jarvis redundancy bill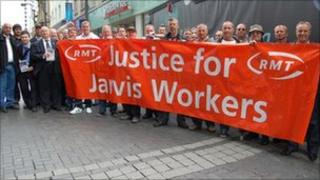 Taxpayers will have to pay more than £3m in unpaid wages to former employees of York-based Jarvis Rail after the firm collapsed last year.
Trade unions for the 1,200 workers argued at an industrial tribunal that the company should have given 90 days' notice of compulsory redundancy.
The claim is eight weeks at the maximum £380 per week under employment law.
The workers were made redundant when talks between Network Rail and the administrators finished in April 2010.
More than 350 jobs were lost in York, 300 in Doncaster and 80 in Leeds.
As Jarvis Rail no longer exists, the government has to meet the bill.
Brian Brock, regional organiser for union TSSA, said the case was one of the worst he had dealt with.
"I think how it was done, how the staff were dealt with was probably among the worst I've seen."
Bill Rawcliffe, of Justice for Jarvis Workers, said: "We were reassured they were trying their best to get some money sorted out and would try to get some wages put in the following day but in the event we never received anything.
"However, all of the management team who were paid on a different cycle all received wages on the 26 March. The workers last received any pay in February."
The Department for Business, Innovation and Skills was unable to comment on the case as it is "a matter between employer and employee".