Man who groomed 'girl' caught in Exeter police sting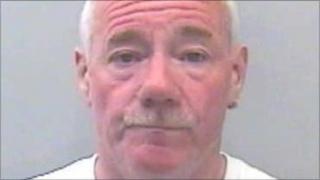 A man who drove 282 miles to have sex with a 14-year-old girl, who was actually an undercover police officer, has been jailed for 26 months.
George Wilkinson, 58, of Calder Avenue, Fleetwood, Lancashire, had groomed the girl he knew as "Amy" for nine months.
He was arrested in a sting operation by Devon and Cornwall Police when he arrived in Exeter to meet her.
Wilkinson, a former oil rig worker, had admitted sexual abuse charges at Exeter Crown Court.
During the time the undercover female detective was being groomed, Wilkinson performed an indecent act as the "girl" watched via a webcam.
'Married and hardworking'
The court was told Wilkinson, who is married with children, arranged to meet "Amy" at Exeter St David's train station, after which he planned to take her to a nearby hotel for sex.
He was accused of attempting to meet a girl under the age of 16 after sexually grooming her and attempting to force a girl under the age of 16 to watch a sexual act.
Howard Phillips, prosecuting, said Wilkinson used his son's email address to register on the World's Biggest Chat website.
He made contact with "Amy", believing her to be a 14-year-old schoolgirl from Plymouth.
"The conversations quickly became sexual," Mr Phillips told the court. In January he performed a sex act while filming himself on his webcam.
Some months later, Wilkinson took things further by arranging to meet "Amy" in a hotel close to Exeter St David's train station.
"It was quite clear what he had in mind," Mr Phillips said.
After he was arrested, alcohol and other items that would ease his abuse of the schoolgirl, had she been real, were found in his possession, the prosecutor added.
Kelly Scrivener, defending Wilkinson, said her client knew what he had done was wrong and he had admitted it from the moment he was arrested.
Computer ban
He had been "married and hardworking" until his arrest, but now had lost his job and his wife was divorcing him.
"He is the type of man who wants to know why he took a fantasy far too far so that it passed the boundary into criminal behaviour," she said.
Sentencing Wilkinson, Judge Philip Wassall said the police operation had prevented a real young girl becoming a possible victim of his behaviour.
"This is a serious case of grooming because it went on for so long," the judge said.
"The fact that you went so far as to book a hotel room to take this girl to and took alcohol with which to loosen her inhibitions indicates to me the extent of the activities to which you were planning to subject her."
Wilkinson was also placed on the sex offenders register for 10 years, banned from working with children and barred from using the internet unless monitored by the police for 12 years.