Immigration minister opens South West Border Agency offices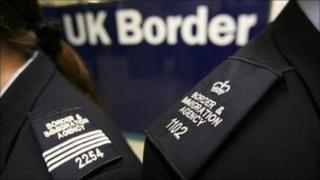 Immigration Minister Damian Green has been in Plymouth to officially open the UK Border Agency's new offices for the South West.
He met some of the officers who patrol the coastline of Devon and Cornwall targeting drug smugglers.
After sailing around Plymouth Sound on one of the agency's boats, he praised the work done in the South West.
Figures show 153 illegal immigrants were deported by the Plymouth office between January and the end of June.
The team, based at West Point, carries out more than 25 raids every month targeting illegal immigrants across the two counties.
Regional 'success'
In the first seven months of this year, civil penalty notices totalling more than £300,000 were handed out to 54 businesses in the region caught employing illegal workers.
"The teams based in Plymouth have been very successful in tracking down people who should not be in the UK," he said.
In an attempt to reduce net migration to the UK, the government has changed the student visa system and introduced a new annual limit on work entry routes.
"Keeping Britain's border secure is a top priority for this government," he said.