TransPennine service resumes following strike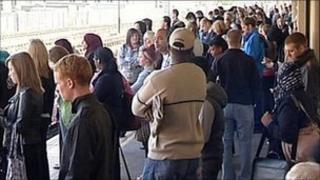 Normal service is expected on First TransPennine Express (FTPE) trains following a 24-hour strike by staff over a pay dispute.
The strike on Wednesday by train drivers from the Aslef and Rail Maritime and Transport (RMT) unions, resulted in an amended timetable.
FTPE said all trains were back in position and normal service was expected on Thursday.
A second day of strike action is planned for Friday.
First TransPennine Express operates services between Leeds, York, Sheffield, Manchester, Liverpool, Hull and Newcastle.
It also serves areas in Lancashire, including Blackpool, Preston and Lancaster.
Leeds Festival
FTPE and Aslef have said they are open to talks over the dispute.
The union has said it is "ready and willing" to reconvene talks.
Managing director of FTPE, Vernon Barker, said: "This dispute needs to be resolved through dialogue, not disrupting trains.
"I'm hopeful we can meet the unions and actually do just that."
Nick Whitehead from the Aslef union said their negotiators had "cleared their diary and were waiting for the company to get in touch".
The second 24-hour strike will coincide with the run-up to the Bank Holiday weekend, Manchester Pride and the Leeds Festival.
The Rail, Maritime and Transport Union (RMT) suspended its action by conductors and station staff it had planned for Wednesday as officials considered a new offer.
However, action by drivers who are members of the RMT went ahead as planned.
Members of the RMT and Aslef unions had voted to take strike action after rejecting a 2.2% pay offer.