Facebook victim Ashleigh Hall's mother to sue police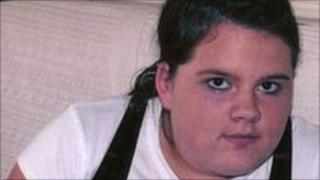 The mother of a teenager murdered by a man she met on Facebook is planning to sue four police forces.
Ashleigh Hall, 17, from Darlington, was smothered to death in 2009 by Peter Chapman, a convicted sex offender.
The Independent Police Complaints Commission (IPCC) found mistakes were made in the monitoring of Chapman.
Miss Hall's mother Andrea, is planning to sue Merseyside, Cleveland, Durham and North Yorkshire forces for failing to keep track of the 32-year-old.
The IPCC concluded inadequate resources resulted in the poor management of Chapman.
It also found that Merseyside Police had allowed the sex offender to "slip away" by losing track of him in the months before the murder.
A spokesman for Durham Police referred all queries about the case to Merseyside Police.
Merseyside, North Yorkshire and Cleveland Police all said it would be "inappropriate" to comment if a legal case was pending.
False profile picture
The IPCC inquiry also found that the police officer in the Chapman case had not received proper training in monitoring sex offenders.
Chapman, of Merseyside, a convicted rapist, was placed on the sex offenders register in 1996.
He was jailed in March 2010 after admitting Miss Hall's, kidnap, rape and murder.
He had claimed on the social networking site that he was a teenager and posted a picture of an unknown man as his online profile image.
Andrea Hall, 39, told BBC correspondent Fiona Trott, that she was taking legal action to "prove police were wrong" and to get compensation.
The IPCC said that between being registered and committing the murder, Chapman had come under suspicion of two sex offences, was convicted of motoring offences and theft and was jailed for failing to comply with his registration order.
It also found after May 2005, when Chapman moved within Merseyside and came under Knowsley's sex offender unit, he should have been visited every three months.