More pupils in South East achieve top grades than in any other region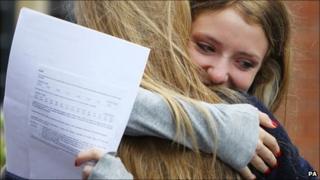 It's been another record-breaking year for the teenagers who have received their GCSE results across the South East.
More than 26.5% of students achieved an A* or A grade - which is up slightly on last year's 26.2%. It also means the region has the highest proportion of top grades in the country.
And like last year, nearly three-quarters - 72.3% - of this year's entries achieved a C grade or above, which is also higher than the national average of 69.8%.
The provisional figures show that it has been another record year for Kent's students.
62% of the county's students achieved the key benchmark of five A* to C grades, including English and maths - that's up five percentage points on last year.
84% achieved five A* to C grades in all subjects - an improvement of five percent on 2010.
It means there has been year-on-year improvement in Kent since 1995.
In Dartford the Leigh Technology Academy is celebrating its best ever GCSE results.
'Huge improvement'
An impressive 95% of students achieved five or more A* to C grades - with 18% scoring five or more A* and A grades.
Tonbridge Grammar School was well above the average, with 83.6% of students getting A or A* GCSE results. That was an increase of almost 4% on last year.
Elsewhere across the 27 secondary schools in East Sussex the provisional figures show that 58% of pupils gained 5 A*-C GCSEs, including English and maths. That's an 3% increase on 2010.
There has been another rise in GCSE results in Brighton & Hove's state schools, with provisional results up nearly 4% overall.
The number of pupils achieving five A*-C results including English and maths has risen from 49.1% in 2010 to 52.82% in 2011.
Brighton and Hove's first academy is celebrating a huge improvement in its results.
Brighton Aldridge Community Academy (BACA) saw its figures for A* to C grades, including English and maths, increase by 64%.
And at the independent school Brighton College eight pupils have passed their Mandarin GCSE after studying the language for just three years.
Brighton College was the first school in the country to make the subject compulsory for all new pupils - six teenagers got the top A* result with two gaining As.
Today's results are good news not just for students in the South East but also nationally as the overall A*-C pass rate has risen for the 23rd year in a row.
But there is a note of caution: the figures from the Joint Council for Qualifications show a widening gap between the genders, particularly at the top grades, with boys struggling to keep up with girls.
The results show that more than one in four (26.5%) of girls' entries were awarded an A or A* this summer, compared to 19.8% of boys'.
'Hard work'
Pupils at Herne Bay High, in Kent, bucked the national trend and their three top achievers were all boys.
Although the overall results this year show just a small percentage increase they continue the trend of improving exam results over the past two decades.
And as results are seen to improve year-on-year, critics say that exams are getting easier.
But Schools Minister Nick Gibb has congratulated pupils on their results, saying: "No-one should underestimate the hard work and application needed to gain GCSE qualifications."
The big issue for these youngsters now, having worked so hard for their results, is what their future holds and what steps they can take today to avoid becoming one of the nearly one million 18 to 24-year-olds not in education, employment or training.