Second TransPennine rail strike is suspended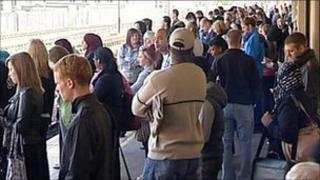 A second 24-hour strike by staff on First TransPennine Express (FTPE) trains in a row over pay has been called off so fresh talks can be held.
The walkout, by train drivers from the Aslef and RMT unions, was due to start at 00:01 BST on Friday, causing disruption across the north of England.
FTPE said it was "good news" for customers and a normal timetable would be in operation.
A strike on Wednesday led to disruption for thousands of rail passengers.
FTPE operates services between Leeds, York, Sheffield, Manchester, Liverpool, Hull and Newcastle.
It also serves areas in Lancashire, including Blackpool, Preston and Lancaster.
Members of the RMT and Aslef unions had voted to take strike action after rejecting a 2.2% pay offer.
FTPE said no agreement had been made on the pay settlement but industrial action had been suspended to allow for "meaningful discussions to continue".
Nick Whitehead, of Aslef, said: "It's good news. We've agreed the offer made is not a final one and we'll have talks tomorrow and start with a fresh page."
FTPE managing director Vernon Barker said: "This is good news for our customers travelling to and from work or for events across our network ahead of the bank holiday weekend.
"I want to apologise to customers that may have been inconvenienced earlier in the week."