Cannabis factory gang leaders jailed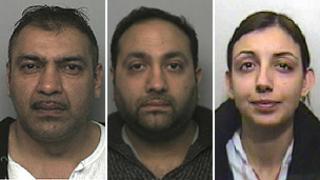 The leaders of a gang that grew and supplied high-strength cannabis with a street value of about £20m a year have been jailed at Reading Crown Court.
About 7,000 plants were seized during police raids at large detached homes in Berkshire, Oxfordshire and Surrey.
Ajaz Asghar, 42, of Romsey Road, Reading was sentenced to nine years.
His girlfriend Hayley Ellison, 29 of Don Close, Reading received 18 months, and his brother Fiyaz Asghar, 31, of Underwood Road received four years.
They were found guilty after a four-week trial.
'Cannabis gardeners'
Four Vietnamese nationals were sentenced on Thursday having previously pleaded guilty to cannabis cultivation.
The men, who were trafficked into the UK, were jailed for between 21 and 30 months.
They were essentially the "gardeners" of the cannabis factories, an officer from the South East Regional Organised Crime Unit (SEROCU) said.
Ngol Son Le, 34, Thong Nugyen, 36, and Bein Bui, 31, all of no fixed address, were jailed for 21 months.
Cong Pham, 31, of Clarendon Road, Reading, Berkshire, was jailed for 30 months because he had a previous conviction and had been deported from the UK but later returned to Reading.
The police operation was jointly carried out by officers from SEROCU, with assistance from Thames Valley and Surrey police, the UK Border Agency and HM Revenue and Customs.
Police said they believed more than 20 houses had been used for at least 18 months. During the operation £26,000 in cash was also seized.
Det Ch Insp Paul Furnell of SEROCU said: "The conspiracy was typical of such operations, in which minor players, often of Vietnamese origin, are used as 'farmers' and caretakers at the rented properties whilst the organisers stay in the background.
"However our intelligence and inquiries enabled us to identify the people behind this scheme, and the sentencing today sends a message that law enforcement is actively pursuing organised criminals engaged in this type of activity."