First TransPennine Express drivers balloted on 5% deal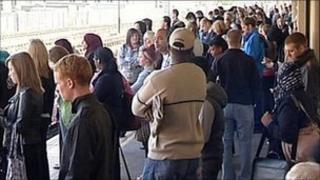 Train drivers who have taken strike action over pay are to be balloted on a 5% deal over the coming days.
Negotiators for the Aslef union met with managers at First TransPennine Express on Friday and agreed to put the deal to their members.
One strike was held on Wednesday and a second, planned for Friday, was called off as the last-minute talks took place.
First TransPennine said it was pleased and the union confirmed the ballot.
The strike action on Wednesday led to disruption for thousands of rail passengers.
FTPE operates services between Leeds, York, Sheffield, Manchester, Liverpool, Hull and Newcastle.
It also serves areas in Lancashire, including Blackpool, Preston and Lancaster.
In a statement Vernon Barker, the train firm's managing director, said: "We are pleased that through dialogue and discussion we have been able to get to a position where the Aslef negotiating team believe they can now recommend a deal to their membership."
An Aslef union spokesman confirmed the deal would be put to a ballot but offered no other comment.