East Midlands Airport halfway to 1,000 jobs goal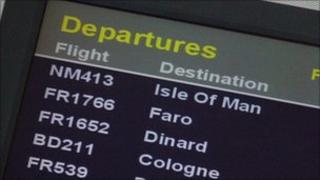 East Midlands Airport has said more than half of the 1,000 jobs it hoped to create this year have been filled.
Opportunities varied from working in a new hotel or with a courier service based on the site to scaring birds from the runway, managers said.
Several job events are planned to help find suitable applicants for the remaining posts.
The jobs news comes soon after bosses revealed the airport had experienced a drop in profits and passengers.
The airport set the 1,000 jobs recruitment target in April.
'Airport ambassadors'
The airport's managing director, Brad Miller, said: "Those thousand jobs are coming from all different sectors and we are recruiting ourselves.
"For example we are taking on what we call airport ambassadors, who are constantly in the check-in hall looking out for people who are a little lost or unsure to point them in the right direction."
The new £22m Radisson Blu hotel is to recruit 100 staff alone.
The airport site employs about 7,000 people and is the UK's second largest cargo hub. About 100 companies use the site.
Recently released figures showed passengers numbers from April 2010 to April 2011 had fallen by 400,000 to 4.1 million.
Profits dropped by £2.6m to £7.1m in the same period.
But managers said a late surge in bookings meant they expected up to 90,000 people to use the airport during the bank holiday weekend.