Dodd's haulage company in administration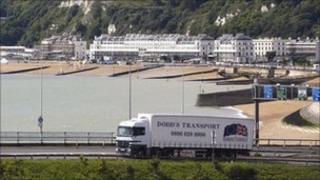 A haulage company has gone into administration with the loss of 90 jobs in Kent and South Yorkshire.
The Dodd's Group, which had depots in Sittingbourne and Sheffield, was suffering from severe cash flow problems, administrator MCR said.
MCR said the problems of Dodd's operating company, 21st Century Logistics Ltd, were heightened by the current economic climate.
Driver Ken White said staff at the Kent base were shocked at the news.
Workers were told when they arrived to collect their wages at Eurolink Commercial Park on Friday.
"I drove into the yard and one of the transport managers said take all your stuff out of the truck - we have gone into administration," said Mr White.
"We found out they actually went into administration last night.
"Everyone came in today and worked a whole day and weren't told until they got back to the yard.
"People who are on holiday still don't know.
"We are texting everybody and ringing everybody to tell them to come and get stuff out of the lorries because the administrators have taken the keys."
Mr White said some staff had been with the firm for 30 years and would find it very difficult to find other work.
Jim Dodd, former owner of the Dodd's Group, founded nearly 100 years ago, said he sold the company four months ago.
MCR administrator Jason Godefroy said: "The company had been suffering from a lack of working capital as a result of severe cash flow problems heightened by the current economic climate.
"There is no doubt that the difficult trading environment over the past 12 months has played a significant part in the demise of the company.
"The administrators have had no choice but to wind down operations with immediate effect and actively market such assets are available to maximise a return for creditors."