HMS Raleigh closure not an option says Dr Liam Fox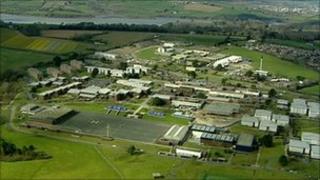 The Defence Secretary Liam Fox MP has said a naval base in Cornwall will not close.
Writing to Sheryll Murray, MP for South East Cornwall, Dr Fox said no options being considered for HMS Raleigh, in Torpoint, involved its closure.
There had been fears the base could close, following a leaked document in July.
Mrs Murray told BBC Cornwall she was "delighted" to have received confirmation about the base's future.
"The letter said that none of the options being considered includes the closure of HMS Raleigh," the Conservative MP said.
She explained it was possible the use of the base might change from the naval training currently carried out there.
'Good for Torpoint'
She said Dr Fox had told her that: "Consideration would be given to the establishment being used to accommodate 45 Commando Royal Marines."
The commando unit is due to relocate from Arbroath in Scotland to the South West, later this decade.
Fears about the future of HMS Raleigh were sparked earlier this month by the leaking of a document that suggested the training of naval ratings done at the base could merge with naval officer training at HMS Britannia Royal Naval College in Dartmouth.
Mrs Murray said: "I'm very disappointed that the leaked document was made public earlier this month.
"I hope that this letter will put an end to the matter and provide reassurance to [HMS Raleigh} staff and naval personnel.
"As long as we have the Royal Navy presence at HMS Raleigh then that's good for the town of Torpoint."