Views sought over pre-2012 bike race through Surrey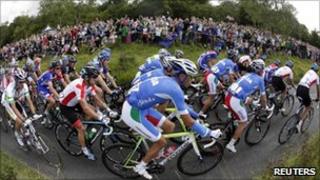 Residents in Surrey are being asked to give their views on the recent cycling test event for the London 2012 Olympics which passed through the county.
The London-Surrey Cycle Classic, took riders on a return route from The Mall in London to Box Hill on 14 August.
Thousands of people lined the route across Surrey, including the Mole Valley area, to cheer the competitors.
Mole Valley District Council has created a survey to get suggestions ahead of the Olympic race next year.
Twitter updates
A spokesman said: "Hundreds of spectators lined the route through Mole Valley, cheering and waving the 148 competitors of the London-Surrey Cycle Classic, as they whizzed through the district.
"This was a major test event for next year's London 2012 Olympic Games so [we want to know] what went well and what needs to be improved for next year?"
The council also said it would be posting updates on next year's race on the social networking site Twitter.
Complaints about road closures during the race led to Surrey County Council issuing an apology.
Councillor Denise Saliagopolous said the authority would be learning from the test event and apologised for any inconvenience.
The race started at The Mall before heading through west London and into Richmond Park.
The cyclists then passed Hampton Court Palace, Walton-on-Thames, Guildford and Dorking before two circuits of Box Hill in Surrey, which is a Site of Special Scientific Interest (SSSI).