'Definitely Devon' cream made using milk from Cornwall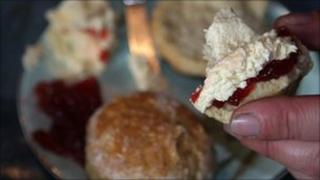 A dairy firm must stop branding its cream "Definitely Devon" after it emerged the milk used to make the product came from Cornwall.
Trading Standards officers in Devon said Rodda's branding was detrimental to Devon farmers and cream producers.
Rodda's said it was only intending to use up existing packaging to prevent waste after taking on the brand from Wiseman's Dairies earlier this year.
It will be re-branded "Westcountry Clotted Cream", Rodda's added.
New sticker
Trading Standards stopped short of legal action, but said the cream would only have been passable in law with a large print "Made In Cornwall" on the packaging.
Wiseman's transferred its clotted cream business to Rodda's when it shut its factory in Okehampton, Devon.
Wiseman's admitted in May that the cream was then being made with Cornish milk.
When production was moved to Cornwall, Wiseman's said the county's trading standards had told it to put a "Made in Scorrier" sticker on the packaging.
Scorrier is a small Cornish village, near Redruth, and home to the Rodda's creamery.
Protected status
Managing director Nicholas Rodda said: "We are definitely not trying to mislead the Devon consumer.
"It was only an interim measure until we could get the Westcountry brand up and running."
The neighbouring counties have a long-running rivalry when it comes to clotted cream, particularly as to how it should be used in a traditional cream tea.
In Cornwall, the cream is said to go on top of the jam on a scone, while people in Devon are thought to prefer cream first and then jam.
Cornish clotted cream was given European Union Protected Designation of Origin status in 1998, environment ministry Defra said.