West Midlands police forces make plea for jobs inquiry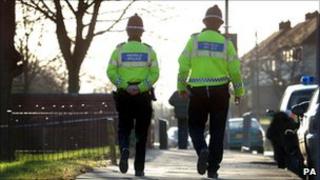 More than 100 buses will be travelling across the West Midlands with messages calling for a Royal Commission into cuts to police force budgets.
Four West Midlands police federations have joined together to produce the call for the commission, which they say will protect the police service.
One federation spokesman said there would not be enough officers around to keep people safe.
The government has said there is no likelihood of a Royal Commission.
A Royal Commission is formal public inquiry.
The federations of Staffordshire, Warwickshire, West Mercia and West Midlands have joined together to publish their calls for a commission, saying it is needed to "protect the police service from the chaotic approach to police reform".
Simon Payne, chairman of the Warwickshire Police Federation, said the bus messages were a wake-up call to the government.
'Overwhelming support'
He added the federation was not against change, but wanted change "based on evidence, not a political agenda".
"We have overwhelming public support, but the government is not listening to us," he said. "We forecast the riots, we said there would be problems.
"We have been warning them since the Comprehensive Spending Review in October. There are not enough officers to keep people safe."
It was recently announced that Wellesbourne police station, in Warwickshire, would be sold for housing as the force tries to save £20m.
HM Inspectorate of Constabulary (HMIC) has also recently said 800 jobs are likely to be lost by 2015 as the force tries to save £38.7m over four years while West Mercia's chief constable has said he cannot guarantee frontline policing will remain the same due to cuts.
The force is facing a £34m budget cut by 2015 and is looking at ways to share resources with Warwickshire Police.
The HMIC said more than 2,000 jobs were likely to go at West Midlands Police by 2015.