Battle of mayors in Leicester over parking fine claims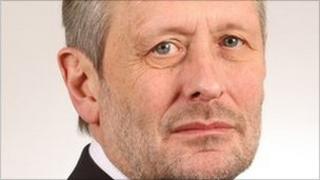 In the world of rock bands, it's called "musical differences". In theatre land, such personality clashes are labelled "creative differences".
But in the world of Leicester politics, it's already being called the "battle of the mayors".
The Lord Mayor of Leicester, Councillor Robert Wann, finds himself at the centre of allegations that he was able to dodge parking fines.
Pressing for a full investigation is the newly-elected city mayor, Sir Peter Soulsby.
Parking controversy
This is more about a political battle of wills, than a simple case of dodging parking fines. But the issue is still potentially damaging to the Lord Mayor and the city council.
None of the key figures in this drama are talking publicly, but I gather the background is something like this:
City councillors are allowed to park their cars in the available spaces at New Walk Centre, the rather run-down 1960s office block that is the administrative HQ of Leicester City Council.
Space can be very tight, so what happens when your larger than average car can't fit in.
In his attempt to balance a busy diary of meetings and visits, Rob Wann would occasionally park his car in the streets outside the council's HQ and would return to find a parking ticket slapped on his windscreen.
This now gets to the heart of this particular controversy.
While other motorists have to pay their parking tickets, the allegation is that Councillor Wann was able to get his parking fines - totalling up to £450 - either cancelled or written off by senior council officers.
That's prompted calls for an investigation by the Standards Board of England.
Inquiry needed?
Rob Wann is one of Leicester's most senior Labour politicians and a former chairman of Leicestershire's police authority.
He took over the ceremonial role of Lord Mayor in May, the same time that former city MP Sir Peter Soulsby was elected Leicester's first City Mayor.
It's Mayor Soulsby - now its most powerful politician - who lodged a formal complaint.
I understand leaked documents reveal that Councillor Wann, the current Lord Mayor, had allegedly evaded fines on five to seven occasions.
So will there be a full inquiry?
There's already been an internal inquiry by a small committee of city councillors.
It's been described to me as far too cosy, since it ruled out referring the Lord Mayor to the Standards Board of England.
That's the organisation - soon to be abolished - that investigates complaints of misconduct in local government.
Instead it's been left to the council's chief legal officer and director of corporate governance, Perry Holmes, to consider the next move.
But that doesn't satisfy Mayor Soulsby.
He says given the prominence of the councillor involved - the issue needs to be dealt with independently and transparently.
He wants the Standards Board to investigate, before it's officially scrapped by Eric Pickles and his Localism Bill.
Multiple mayors
As for Rob Wann, he told me he's making no public comment while any investigations continue.
As Lord Mayor, he's carrying out his civic duties as normal this week. He's got a reception at Oadby on Anglo-Indian trade and a hospital governors' meeting.
On the other side of the mayoral chains, Sir Peter is a politician in a hurry. Having been directly elected by voters, he has a pretty convincing mandate.
One objective is to streamline the city council's senior management structure; its chief executive has already felt the icy chill of a change agenda.
Will the historic role of Lord Mayor in Leicester be next in line? Having two mayors in one city still causes confusion among some voters.
Two heads may be better than one, but does Leicester really need two mayors?
A debate on that issue alone may be timely and just the ticket.