West Country hospitals charged on ambulance A&E delays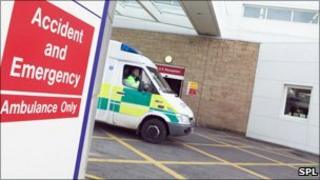 West Country hospitals have paid out almost £350,000 to the South Western Ambulance Service Trust for keeping staff waiting to hand over patients.
Last year hospitals in Cornwall, Devon, Somerset and Dorset delayed ambulance crews by 5,500 hours, a freedom of information request has revealed.
The Royal Cornwall Hospital paid the highest charge of nearly £71,000 for delays in the past financial year.
The hospital told BBC News it was working to improve the situation.
'Dealing with patients'
In total, ambulance staff were kept waiting at the Truro site for 846 hours.
The ambulance service said the charges, introduced less than two years ago, had encouraged hospitals to improve handover systems and reduce delays.
Ken Wenman, chief executive of the ambulance trust, said: "Our ambulances and staff should be out there dealing with patients... we can't do that if they're queuing at A&E departments."
Mr Wenman said the trust had seen some "significant improvements" over the past year with some of its hospitals' waiting times.
"The funds go back into providing ambulances, there's no profit," he added.
Rowena Green, from the Royal Cornwall Hospital, said new technology had been installed to alert accident and emergency department staff to the arrival of ambulances, which she hoped would reduce handover times.
"We don't want to be in a position where we hold up ambulance teams," she said.
"With the work we're doing across the organisation, I hope over the next few months we will see improvements."
'Significant progress'
In Devon, four hospitals - Derriford, Torbay, Royal Devon and Exeter and North Devon - were charged a total of more than £100,000 by the ambulance service.
At North Devon District Hospital paramedics waited for more than 600 hours.
The hospital trust said it had made "significant progress" since April.
Two extra consultants have been employed to help deal with the problem, the trust added.
In Dorset, three hospitals - Royal Bournemouth Hospital, Poole Hospital and West Dorset - were charged a total of more than £91,000.
The ambulance service charged two hospitals in Somerset - Yeovil and Musgrove Park - a total of £72,000.