Chandler pirate kidnap: Book claims FCO failed family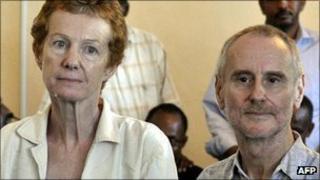 A couple held captive by Somali pirates for more than a year have criticised the British government in a book, for failing to support their family.
Paul and Rachel Chandler, formerly of Tunbridge Wells, Kent, but who now live in Devon, said assistance offered to relatives had been "derisory".
The couple's ordeal began when their yacht was seized in October 2009.
The Foreign and Commonwealth Office (FCO) said it had been in "constant touch" with relatives.
The Chandlers, who now live in Dartmouth, make their claims in a book documenting their 388-day kidnap.
'Begging phone calls'
While the couple say they received "excellent support" from the FCO following their release, they criticise the support offered to their family during the ordeal.
Writing in the book, they say: "We realise that once we were within Somalia, the government could do little directly to help us but they could and should have done more to support our close family members.
"We were disappointed to learn that the assistance from the FCO was, if anything, negative.
"The support and advice to our siblings, who were always likely to be on the receiving end of begging phone calls, was distressingly inadequate.
"The FCO's efforts to keep our family informed were derisory. We have not been made aware of anything helpful being done behind the scenes."
The retired couple were captured while sailing from the Seychelles towards Tanzania.
Their route took them near waters notorious for pirate attacks on ships and smaller boats.
They were released after a ransom of up to £620,000 was reportedly paid to their kidnappers.
A spokesman for the FCO said: "Throughout Paul and Rachel Chandler's ordeal, a dedicated team from across the region and in the UK did everything we could to secure the couple's safe release.
"We used our contacts to gain information which we shared with the family.
"Our consular staff remained in constant touch with the family throughout their ordeal and we supported the couple when they were released.
"HMG's policy is long-standing and well-known - we do not make or facilitate ransom payments."
The FCO said the family had also received support from a private security company.