Town march for Portland coastguard station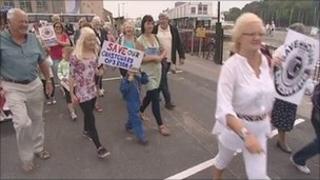 Protesters have marched through a Dorset town over plans to site a new coastguard base in Hampshire.
Under government proposals announced in July, Portland coastguard station is among eight in the UK under threat.
Under the plans Portland and Solent coastguards would be merged and operate from a new centre by the Solent.
Scores of people who want the new centre to be based in Portland walked through Weymouth, holding banners and chanting "save our lifesavers".
Thousands of people have already signed a petition for the new coastguard base to be in Dorset.
The final location of the new Maritime Operations Centre is under consultation and still to be decided, the Maritime and Coastguard Agency said.
It will have 96 staff, which will include watch keeping officers, search and rescue co-ordinators and regular coastguard staff.
The staff will operate 24 hours a day all through the year and will oversee eight sub-centres at Falmouth, Holyhead, Milford Haven, Belfast, Aberdeen, Humber, Stornaway and Shetland.
The government plans cut the number of UK stations from 18 to 10. A consultation on the plan finishes in October.