South West Trains faces questions at Woking meeting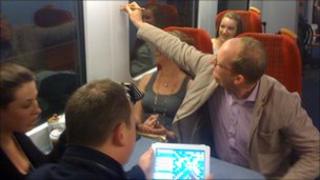 Rail bosses criticised after thousands of passengers were stranded on trains are to be questioned by politicians.
Councillors in Woking will quiz the management of South West Trains over its handling of the crisis on 9 June.
Services were halted near Woking, Surrey, after a possible cable theft. Some 60 trains were affected and passengers were stuck for hours.
Many passengers escaped by forcing open train doors and walking down lines, resulting in further delays.
A heavily pregnant woman was among a group who got off one of the trains outside Woking and walked along the tracks.
'Clear answers'
The meeting has been organised by Woking Borough Council's overview and scrutiny committee on 12 September.
Representatives from South West Trains, Network Rail and British Transport Police are due to attend.
Councillor Denzil Coulson, the deputy leader of the Lib Dem opposition group, said: "Hopefully we will get clear answers from the rail bosses so that we can achieve workable solutions for our commuters."
Mr Coulson said the company should communicative effectively with passengers and provide refreshments.
"I believe then that passengers would not risk their lives walking on the rails," he added.
South West Trains has apologised and is carrying out a review if its response.