London 2012: Over 150,000 take part in Community Games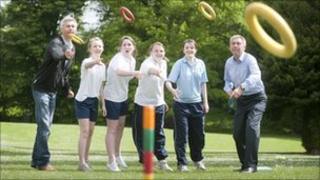 As the countdown continues to London 2012, thousands of people across the West Midlands have been getting into the Olympic spirit.
More than 150,000 have so far taken part in local events called Community Games.
To celebrate the Olympics and Paralympics, the aim is to get people together to take part in sporting or cultural activities where they live.
There have already been over 180 events in the region.
Community celebration
Officially launched in May 2010, the idea for Community Games was inspired by the Wenlock Olympian Games which began in Shropshire in 1850.
Founded by Dr William Penny Brookes, the games in Much Wenlock still take place and are a celebration of both sporting and artistic achievement.
Over the years, there have been awards for events ranging from football to quoits and poetry to painting.
The Community Games to mark London 2012 are based on the Much Wenlock "vision".
Naomi Temple, Community Games Co-ordinator, said they were about "communities coming together to celebrate London 2012 in their own way."
"It's not just about a community sports day, it is about a celebration of the community in it widest sense.
"It's about getting involved, having a go and having fun. It's about giving everybody their own Olympic or Paralympic moment, you don't have to be able to do a 100m sprint," she added.
Games that have taken place so far have included skateboarding, tug of war, dance workshops and poetry performances.
Ms Temple said some events had been particularly competitive, such as a welly-wanging competition in Herefordshire.
More events are taking place across the West Midlands over the coming months and organisers are hoping to reach a target of 500 by 2012.
David Moorcroft, Chair of West Midlands for 2012 said: "With less than a year to go to the Olympic Games, now is the time to think about how you are going to get involved."