Chandler pirate kidnap: High risk sailing claim denied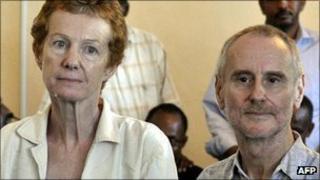 A British couple held captive by Somali pirates for more than a year have denied putting themselves in harm's way during their sailing trip.
Paul and Rachel Chandler, formerly of Tunbridge Wells, Kent, said they were not warned pirates were operating that close to the Seychelles.
The couple, who now live in Devon, were seized from their yacht near the Indian Ocean islands in October 2009.
They also said despite their ordeal they planned to sail again.
'Very, very traumatic'
When the couple was asked whether they had put themselves in harm's way, Mr Chandler replied: "No that is absolutely not true.
"We were aware, when sailing on blue water oceans, that there is a risk wherever we are.
"Risks of being attacked and robbed, there are risks of striking submerged containers, that sort of a risk and we accept that. That's part of the adventure."
He added: "We knew about the piracy problem because we'd sailed through the Gulf of Aden two years before and we did research on it
"The pirates were generally not attacking that far out to sea.
"To put it into perspective if we'd have been sailing from Plymouth the equivalent pirate base would have been in Lisbon or in the Shetland Islands so it's an awfully long way away."
Mrs Chandler said "We would have never left the Seychelles if we had known, if anybody had warned us, that there was a high risk that pirates were operating in that area."
She also descried the night they were kidnapped as being "very, very traumatic".
"I was stunned and shocked by what happened but I knew that I had to try and understand what they wanted and just to do what they wanted.
"It was obviously very, very traumatic and very frightening."
The Chandlers, who now live in Dartmouth, were captured while sailing from the Seychelles towards Tanzania.
They were released after a ransom of up to £620,000 was reportedly paid to their kidnappers.