Environment Agency East England flood schemes top 300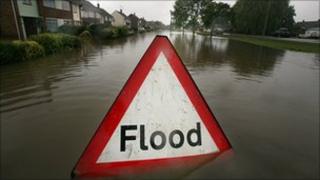 More than 300 flood defence schemes have been completed since 2008 in the East of England at a cost of £240m, the Environment Agency has said.
The agency, local councils and internal drainage boards in Norfolk, Suffolk, Essex, Lincolnshire and Cambridgeshire have carried out the schemes.
Also, over 175,000 more households in the five counties now receive direct flood warnings, compared with 2007.
The warning service was recommended in a review after heavy floods in 2007.
Environment Agency Chief executive Dr Paul Leinster said: "Many communities are at lower risk of flooding from rivers and the sea as a result of major improvements to defences.
"We've completed more than 300 new flood schemes since 2008, increasing protection to more than 182,000 households.
"However, the reality is that flooding can't be totally prevented. But more people are becoming aware of the risks a flood might pose."