Anglia Ruskin University student finance bus starts tour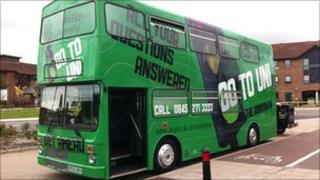 A university has begun a road show across the east of England to explain the changes to student finances.
Anglia Ruskin University, which has campuses in Chelmsford and Cambridge, will visit 20 towns in East Anglia in a specially adapted double decker bus.
From 2012, universities will be able to charge annual fees of up to £9,000.
Rachel Nedwell, head of outreach and recruitment, said the bus was designed to explain the changes to prospective students and their parents.
She said: "A lot of the media coverage has meant prospective students feel very confused about what it is they need to do and what situation they may find themselves in.
"As a result young people and their families are quite scared about how much debt they may find themselves in when they're at university.
"We've set up this roadshow specifically in reaction to that because we want everybody to understand the real facts about going to university."
Anglia Ruskin University has said it will be charging up to £8,300 for some of its full-time undergraduate courses from 2012.
The bus, which has been converted to have a mini lecture theatre on the top deck, will also be used to advise people on subjects such as budgeting and the university application processes.
Throughout September and October it will visit 30 schools, colleges and town centres in Essex, Cambridgeshire, Hertfordshire, Suffolk and Norfolk.