Irish Sea conservation zones recommended for north-west England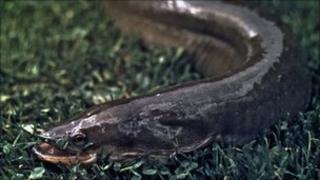 Nineteen coastal sites across Merseyside, Lancashire and Cumbria have been recommended to be designated as Marine Conservation Zones (MCZ).
The proposed zones within the Irish Sea project area are among 100 proposed around England and Wales to be given greater protection in law.
They will be assessed by an expert panel before the government makes its final decision next year.
The MCZs will be protected from the effects of tourism and over-fishing.
Those proposed by the Irish Sea Conservation Zones project (ISCZ) include the blue mussel beds of the Hilbre Island group near Wirral and the eel spawning grounds within the estuaries of the Solway Firth, Ribble, Wyre and Lune.
'UK first'
An ISCZ spokesman said: "These river estuaries are often vital spawning, nursery and foraging grounds, but over-harvesting, pollution, hydro-power dams and parasites have contributed to the massive decline in eel numbers, with the number of adults declining by 80% in the past 60 years."
The Hilbre Island group of three islands, adjoined by sandy spits at low tide, are walked over by tourists who can damage the blue mussel and clam beds, which in turn provide a micro-habitat for crabs and anemones, the spokesman said.
"The aim is for MCZs to have the least impact possible on people's activities, but some restrictions will apply as the zones must meet guidelines for protecting species and habitats."
The zones were identified after ISCZ conservationists consulted with sea users including fishermen, sea anglers, watersports enthusiasts and tourism business owners.
"This project is the first time in the UK that recommendations for marine conservation were developed by sea users themselves and no other country has adopted the approach on such a large scale,"