On the streets with Stuart Bell as MP takes on critics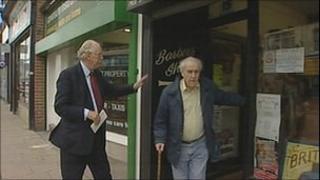 Sir Stuart Bell said it was business as usual, but at times my afternoon filming with him in Middlesbrough felt a little like an episode of The Thick of It.
The Labour MP had agreed for us to film him at work in his constituency, following a week of horrible newspaper headlines.
First his local paper had claimed they'd made 100 unanswered calls - something Sir Stuart denies.
And then a whole host of media outlets had waded in, suggesting he was a contender for the title of Britain's laziest MP - something which Sir Stuart says is completely unfair.
Constituency problems
It is true that he has not held constituency surgeries since 1997 after being assaulted twice in the past.
But what he wanted to show us is how he still manages to respond to his constituents, and deal with their problems.
We started off in North Ormesby at a local charity.
The Neighbourhood Development Trust has offices and a charity shop to help the community.
The shop was pretty obvious, but at first both Sir Stuart and I struggled to find the offices.
There was time though for one shop owner to greet the MP by name, suggesting that some constituents clearly know who he is.
And once we found the charity offices, it was quite clear that Sir Stuart had been there before, as they discussed its progress and the work being done to regenerate the local area.
More detail
We then moved on to a nearby swimming baths.
Sir Stuart said he had been helping the Neptune Centre resolve a problem which had caused an unpleasant smell in its changing rooms.
Unfortunately though, the centre manager did not want to be filmed, and we were not able to get much more detail.
So we left Sir Stuart chatting amicably to some local taxi drivers outside the leisure centre.
He said he was going on to meet some constituents who had contacted him in their own homes.
This, he insisted, was what he did every week.
Sir Stuart says he spends almost every weekend in the constituency, and is out every Friday talking to constituents.
And he said our tour wasn't just put on for the benefit of the camera.
He said: "I would be here even if you weren't here. The meetings I've been to have been arranged for some time.
"Every Friday I am on the housing estates. Come on down, have a look around, I'll find you, I'll speak to you.
"We spend four days a week in Middlesbrough. Friday, Saturday, Sunday, Monday."
And he rubbished suggestions he spends more time in France than Middlesbrough.
Some division
He says the only property he owns is in Middlesbrough, and in August alone, he was in Teesside for three weeks out of four.
None of that is likely to satisfy Sir Stuart's opponents, but what of his constituents?
In the centre of Middlesbrough, I found some division.
Some were positive about the MP. One said he thought Sir Stuart was doing a good job.
Others were concerned and angry about what they had read in the newspapers, though confessed they had never tried to contact the MP themselves.
And I did find one woman who said she had tried to and failed to get in touch with Sir Stuart about a community meeting she wanted him to go to.
But the MP is only really likely to find himself in serious trouble if his own party decides to take action against him.
And on that score, Sir Stuart says he has no concerns.
A spokesperson in Ed Miliband's office told the BBC last week that Labour Chief Whip Rosie Winterton had had a "stern conversation" with the MP.
And she said that Sir Stuart had been asked to write a letter of explanation to the leader.
Sir Stuart's version is slightly different.
He says the conversation with Ms Winterton was friendly, and that he had volunteered to write the letter to Ed Milband.
He believes he has satisfied the party about the way he operates as an MP.
If that is the case and remains that way, then the chances are Sir Stuart will get to serve out his full term as Middlesbrough's MP despite a week he admits has been deeply unpleasant.