Devon and Cornwall police chief Stephen Otter calls for recruitment change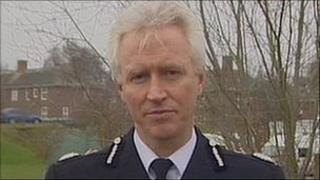 A call to change police recruitment has been made by a government minister and the Devon and Cornwall chief constable.
Policing minister Nick Herbert and the Chief Constable Stephen Otter opposed the current process of having to start as a constable to become an officer.
Both said the system meant female and ethnic minority officers were not represented in the top ranks, despite many recently joining the police.
The Police Federation said progression through the ranks was "vital".
Both Mr Herbert and the chief constable said the top leadership of policing looked very different from the general public.
In the top tier, out of 220 officers, three are from ethnic minorities and 38 are woman, they both said.
Mr Herbert and Mr Otter said the current system could result in some officers waiting years before they are in contention for chief officer posts.
Paul McKeever, chairman of the Police Federation of England and Wales, said his members were against multiple entry points.
"It is vital chief constables have served as PCs and understand the dynamics of what it is to be a police officer throughout the ranks," he said.
Mr Otter represents the Association of Chief Police Officers on race and diversity.