Devon and Cornwall cross-county constituency proposed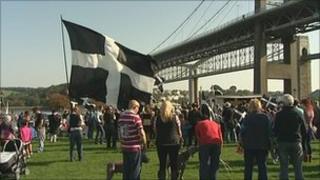 Plans for a new cross-border parliamentary constituency combining parts of Devon and Cornwall have been announced by the Boundary Commission.
The counties would see the number of parliamentary seats cut from 18 to 17.
A new seat of Bideford and Bude would include Bude, Launceston and Camelford in Cornwall plus Bideford, Holsworthy and Torrington in Devon.
The move is part of government plans to reduce the number of MPs at Westminster and make constituencies more equal.
Plans for a joint constituency, which have previously been described as a "Devonwall" seat, have been criticised by MPs and campaigners in both counties.
Critics said there were definite economic and cultural differences between Cornwall and Devon, and that mixed constituencies might not recognise this.
Dan Rogerson, the Liberal Democrat MP for North Cornwall, said it was about Cornish people's sense of identity.
'Cornish pride'
"The Cornish pride people have and their concern that it might in some way be affected if their voice in parliament is not wholely in the Duchy," he told BBC News.
Over the border in Devon, Torridge and West Devon's Conservative MP Geoffrey Cox, said he was "saddened and dismayed" by the proposed boundary changes.
"I'm struggling to understand its logic," he said.
"It seems to me it could well have been achieved much better in other ways and I'm particularly concerned by the splitting of Torridge up into three separate constituencies."
Boundaries redrawn
In its report, the Boundary Commission said a cross-county constituency was "necessary" and it had identified the most appropriate areas.
It added that it had sought where possible to ensure the inclusion of equal numbers of electors from each county in the proposed new seat.
All of the current boundaries in Devon and Cornwall will be redrawn if the proposals are accepted.
The Conservative MP for South West Devon, Gary Streeter, said Plymouth would lose out in the proposed changes to his constituency.
Under them, Plympton would be joined with Tavistock, parts of Torridge and the South Hams.
Meanwhile, a new Plymouth Sutton constituency would include Wembury and Brixton.
'Extraordinary decisions'
Mr Streeter said: "Plymouth currently has two-and-a-half MPs, if you like; me being the half, and the other half of my constituency being rural.
"With this, it would probably end up with two-and-a-quarter.
"Around the fringes of Plymouth, they've made some rather extraordinary decisions.
"Plympton and Crownhill would go in with Tavistock and Okehampton, plus rural villages right up into the heart of Devon."
Sam Hartley of the Boundary Commission said the proposals were just the "first idea" and that people were being encouraged to take part in a consultation.
The plans are subject to two years of consultation before being finalised in October 2013.