Boundary Commission constituency shake-up in Yorkshire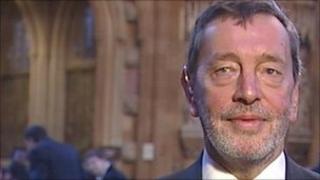 Six of Yorkshire's most high profile MPs will find themselves looking for new seats under radical proposals to reduce the overall number of constituencies in the county.
Former Labour cabinet members David Blunkett and Hilary Benn will see their constituencies disappear altogether.
The seats of veteran Conservative former frontbencher David Davis and current shadow cabinet members Ed Balls and Yvette Cooper will be split in half.
The Shipley constituency of outspoken Conservative backbencher Philip Davies will also be abolished.
Just five of the 54 seats across the Yorkshire and the Humber region remain untouched under the proposals of the Boundary Commission which have been put out for consultation. It will reduce the total number of seats to 50.
David Blunkett says he is "bitterly opposed" to the plan which will see his Sheffield Brightside Hillsborough seat divided between three new constituencies in the city.
Neighbouring seats
Hilary Benn's Leeds Central constituency will be split into four parts which will be merged with four other seats.
For Shadow Chancellor Ed Balls, it could be the second time he will have had to look for a new seat before a general election.
His previous West Yorkshire seat, Normanton, was abolished before the last election and he had to be selected for the newly-formed Morley and Outwood, which he narrowly won.
Conservative heavyweight David Davis would be fighting for selection with his neighbouring Tory MP Andrew Percy as it is proposed to merge both their constituencies into a new Goole and Cottingham seat.
The Boundary Commission, an independent body, has re-drawn the constituencies as part of the government's plans to reduce the number of MPs across the country from 650 to 600. The changes are based on trying to have a similar number of voters in each constituency - around 76,000.
The biggest boundary changes in Yorkshire are in the urban areas of Leeds, Bradford and Sheffield where populations have changed over the past few decades.
Many seats will have relatively minor changes but will technically be abolished and then renamed.
The constituency of Deputy Prime Minister Nick Clegg, MP for Sheffield Hallam, and Foreign Secretary William Hague's Richmond fall into that category as they will retain both 80% of their current areas.
Labour Leader Ed Miliband's Doncaster North seat is one of the five untouched constituencies.