Lib Dems in Birmingham: Summer riots, autumn politics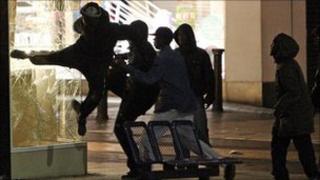 A month and more has passed since the deaths of three young Asian men at Winson Green in Birmingham in the most tragic and, at the time, the most threatening moment of the summer riots.
The flowers are withering away now on the forecourt of the petrol station where tensions between the different ethnic communities so nearly exploded into an even greater tragedy.
It was here that I caught up with Dr Derrick Campbell, the head of Rights and Equality Sandwell, and a government national advisor on gangs and gun crime.
'Monumental failure'
He told me that serious tensions remained between the local communities there.
But he was especially scathing about what he described as "the monumental failure of political leadership" which he had found "deeply disappointing" during those critical days and nights when the city needed it most.
One of the people in his sights is Birmingham's Deputy Council Leader, the Liberal Democrat Councillor Paul Tilsley.
He could hardly have imagined a more gloomy backdrop as he prepared for his big moment this weekend when he formally welcomes his party to their annual conference in his home town for the first time.
His party's 'progressive partnership' with the Conservatives has been in power in Birmingham for seven years, and in fairness he did more than most local politicians to get his message across during the riots and in the aftermath.
Harsh judgement?
He appealed to parents to make sure their children were safely indoors by a reasonable time at night and called for calm after the deaths in Winson Green.
But that did not stop senior Conservatives, including the former Deputy Prime Minister Lord Heseltine, from comparing the political leadership shown in our major provincial cities most unfavourably with that displayed by London's elected mayor, Boris Johnson.
Is this a harsh judgement on our current generation of local politicians, doing their best in challenging times?
Or did they merely parade their own limitations in the eyes of their critics in government, who are now more determined than ever to press ahead with plans for directly-elected city bosses, with Birmingham and Coventry high on their list?
These are the questions I will be putting to Councillor Tilsley when he joins me live on our first Politics Show of the new series at the slightly later time of 13.35 on BBC One on Sunday 18 September 2011 .