Eastern region may lose two MPs in boundaries shake-up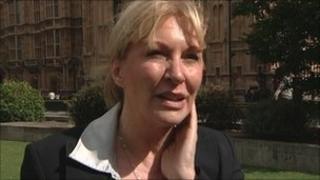 With the government wanting to cut the number of MPs by 10%, it was inevitable that every region would lose a constituency or two. But if the proposals from the Boundary Commission are seen through, just about every constituency in our region will change.
The plans are for two seats to go altogether: Mid Bedfordshire (currently held by Nadine Dorries) and one in Essex when Witham (Priti Patel) and Braintree (Brookes Newmark) merge.
Thirty others may see their boundaries significantly change and we would have a dozen new names to get used to.
It's probably easier to start by listing the constituencies where there'll be no change at all.
They are Cambridge, Central Suffolk, Ipswich, South Suffolk, Suffolk Coastal, Waveney, Colchester, Norwich South and Corby, while South Norfolk is unchanged as near as dammit.
Radical change
Every other seat could see its boundaries change to a greater or lesser extent.
In the some the change is so radical they would be renamed.
Newmarket and Ely: Once again the home of horse racing could find itself part of a Cambridgeshire constituency. The commission says putting Newmarket with Ely makes sense as the two towns have strong communication links with each other.
Peterborough North and Peterborough South: The city would be divided into two seats with the River Nene as the border. Peterborough South would also take in Whittlesey, Ramsay and Yaxley.
Wisbech and Downham Market: Made up of parts of Fenland and parts of South West Norfolk. This new seat would also straddle two counties but the commission again feels that there are good communications between the two main towns.
St Neots: Formed from parts of Huntingdonshire and South Cambridgeshire taking in places like Brampton, Swavesey, Papworth and Bassingbourn.
King's Lynn would be the new name for the smaller North West Norfolk.
Thetford and Swaffham: The new name for the re-drawn South West Norfolk constituency. It would also take in places like Hingham and Wicklewood, which are currently in Mid Norfolk.
Broadland and Dereham: A combination of the old Broadland and Mid Norfolk constituencies.
Basildon and Thurrock East: As the name suggests, the old Basildon constituency would now take in parts of Thurrock including Corringham and Stanford le Hope.
Billericay and Great Dunmow: Made up of some of Basildon, Billericay, Chelmsford and parts of Uttlesford.
Braintree and Witham: Formed as a result of effectively merging the two existing seats (Witham was only created at the last election).
North West Essex takes in parts of Braintree, Uttlesford and Saffron Walden.
Harwich and Clacton: The port and holiday resort back in the same constituency again.
Other significant changes include:
Luton North takes some of Central Bedfordshire including Dunstable.
South West Bedfordshire takes much of Mid Bedfordshire.
Bury St Edmunds loses Badwell Ash, Gislingham, Rickinghall and Pakenham to West Suffolk.
Huntingdon takes some of Fenland including Chatteris.
Norwich North would extend northwards to take in Drayton and Taverham from Broadland (wards which were taken away from it and given to Broadland last year!)
Great Yarmouth would extend northwards to take in Stalham and Waxham, which are currently in North Norfolk.
Harlow would be enlarged and takes the Hallingburys and Hatfield Heath from Uttlesford.
Northampton: Both seats would be expanded.
Daventry would be extended over the border into Leicestershire to take in Lutterworth.
Under threat
These are only proposals which are now open to public consultation.
Labour is already saying that extending so many urban constituencies into rural areas will make it harder for it to win in the region.
The MPs whose seats are under threat are insisting they'll keep on doing their job for the rest of this parliament. They've also been told by party managers not to worry. As some MPs retire they can reasonably expect to be looked after, although there are bound to be a few casualties.
There will now follow a period of horse trading while these proposals are tinkered with, but the government is determined to see a smaller parliament by the next election - so much of what's been proposed is likely to come to pass.