Nottingham-built computer program used in US schools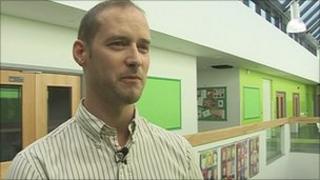 A software program created in Nottingham 10 years ago is helping American schools clamp down on gang activity, says its creator.
IT consultant Jon Valentine created the software in 2001 at the request of Nottingham's now closed Glaisdale School.
The program helps to control internet access by blocking certain sites and searches for pre-defined terms.
Now it has sold to more then 1,500 schools and colleges in the US.
Mr Valentine and his business partner Lee Tuck have continued to develop and add new features to the original software, named Impero, over the past decade and now employ 35 staff at their base in Loughborough, Leicestershire.
'Internet distraction'
Mr Valentine said: "I was working at a school when I noticed the IT teacher was having problems gaining the attention of the students because their computers and the internet were too much of a distraction.
"I quickly made a very simple software program that listed the students who were logged on and had a 'lock' button that allowed the teacher to lock the mouse, keyboards and screens of all the students.
"Instantly the students began to focus more on the teacher, proving the success of just that one feature.
"After a few days I added more and more features into the program such as listing the programs and websites the students were looking at, running websites remotely and powering off the PC.
"I then joined up with Lee and together we have carried on developing the program over the years."
After selling the program to learning establishments in the East Midlands and the rest of England, the company took the program to the US in 2008.
Mr Valentine said US schools had proved a lucrative market as they sought to crack down on students planning and discussing gang activities on school computers.
Classroom security has become a growth industry in recent years with other companies also offering software to help keep children safe at school.
The Impero software is being used by Nottingham's Big Wood School which its creators used to attend.
Head teacher Bernadette Groves said: "We are so proud that pupils who went to our school are doing something that is impacting not just in Nottingham and England but across in America too."
Mr Valentine added: "It's a good feeling to have something grow from such a small company to a big one now. It's fantastic."