Big political names affected by constituency changes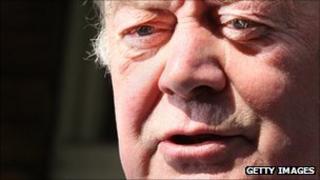 Big changes to the region's parliamentary map could see some of our best known politicians looking for new seats.
Both the Justice Secretary Ken Clarke and Labour's Vernon Coaker face an uncertain future.
Under proposals from the Boundary Commission, their Nottinghamshire constituencies are being abolished.
In the Conservative stronghold of Rushcliffe, Trent Bridge historically and traditionally has been the dividing line between city and county.
But under the Boundary Commission's proposals, the Rushcliffe constituency would be abolished and West Bridgford and great swathes of Rushcliffe's leafy suburbia would go into Nottingham South, currently Labour held.
And it's not the only surprise.
Competing for seats
The number of constituencies in the East Midlands would be cut from 46 to 44.
Derbyshire loses a seat as two constituencies - Amber Valley and Mid Derbyshire - are merged.
That means the current MPs - Pauline Latham and Nigel Mills - both elected for the first time in the last election - will have to compete for the new seat.
Back in Nottinghamshire and Ken Clarke's Rushcliffe is parcelled out three ways to Newark, Nottingham South and a new constituency of Keyworth and Coalville in Leicestershire.
Vernon Coaker's Gedling is also abolished with wards going into a redrawn Nottingham East, currently represented by Labour's Chris Leslie.
The city also gets a new constituency - Nottingham West.
They'll all be part of the new constituency names to get used in time for the next general election.