Boundary changes could hit Blunkett, Benn and Balls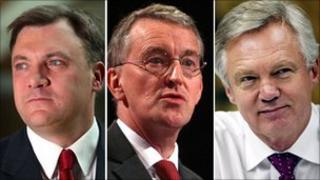 There could be blood on the floor in Yorkshire and the Humber as some of the region's most high profile MPs square up to fight proposals which could see them scrabbling for new seats.
David Blunkett is the first to take off the gloves.
The former Labour Cabinet Minister says he is "bitterly opposed" to the radical plans put forward by the independent Boundary Commission which will see his Sheffield Brightside Hillsborough seat abolished and divided between three new constituencies in the city.
"I can't think of a bigger insult to the electorate, an undermining of democratic representation," he says.
Shipley's outspoken Conservative MP Philip Davies says he is "bitterly disappointed" at the proposals which will see his seat disappear and shared out between five neighbouring seats.
But he says the Boundary Commission had a "thankless task".
Five untouched
Yorkshire and the Humber will face one of the biggest shake-ups from proposals aimed at reducing the total number of Westminster MPs from 650 to 600 in time for the next general election.
Labour leader Ed Miliband's Doncaster North seat is one of just five to escape entirely untouched with the rest facing considerable changes. The proposals will see just 50 MPs returned in the 2015 general election for Yorkshire and the Humber seats - four fewer than there are now.
The government asked the independent Boundary Commission to come up with a new constituency map partly to cut costs but also to rationalise the number of voters in each seat.
The political makeup of the new seats should not be taken into consideration.
Over the past 20 years cities like Leeds, Sheffield and Bradford have seen population shifts which have left some constituencies having far fewer voters than others.
The proposals, now out for consultation before a final decision is made by Parliament in 2013, aim at seeing around 76,000 voters in each.
That means Labour's Shadow Leader of the House Hilary Benn, with one of the country's biggest majorities in Leeds Central but a small overall electorate, completes the list of those in Yorkshire and the Humber.
His constituency is completely obliterated.
He will have to look for selection to an entirely new one if these proposals go through.
Neighbours face off
Others will have to fight their next door neighbours for selections because their constituencies are being merged.
Veteran Conservative former front bencher David Davis and current shadow cabinet members Ed Balls and Yvette Cooper all see their seats split in half in this way.
Conservative heavyweight David Davis would be fighting for selection with neighbouring Tory MP Andrew Percy as it is proposed to merge both their constituencies into a new Goole and Cottingham seat.
That would be an interesting selection process for them both. Andrew Percy used to be the office manager of the man who many once expected to beat David Cameron in the Conservative leadership race.
Name changes
Many more MPs will retain the majority of the current area of their constituencies but will have parts of a neighbour tacked on to bring their electorate up to the desired level.
Technically this means their constituency will be abolished but in practical terms will be resurrected under a new name.
Both the deputy Prime Minister Nick Clegg and Foreign Secretary William Hague are in this position.
The bulk of Nick Clegg's Sheffield Hallam will be retained but merged into a new Sheffield West and Penistone seat.
William Hague's Richmond constituency will add Thirsk to its name and voter numbers.
Bouncing Balls
For Ed Balls, the Shadow Chancellor, it is the second general election in a row that he could be looking for a new seat because of the Boundary Commission.
His previous West Yorkshire seat, Normanton, had been abolished after he won it handsomely in the 2005 election and he had to put himself up for selection for Morley and Outwood.
I suspect he will not shed any tears this time around.
He squeaked home by just 1,100 votes and will no doubt be looking carefully at the new political makeup of any alternative seat where he might now have to throw his hat.
MPs will have the final say some time in 2013 but expect quite a fight before the final map is put before Parliament.