Chatham fatal fire: Husband charged with double murder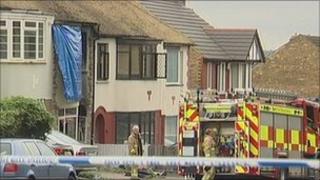 A man has been charged with murdering his estranged wife and 15-month old son who died in a house fire in Kent.
Danai Muhammadi, 23, a car salesman from Britannia Street in Coventry, has also been charged with three counts of attempted murder.
Melissa Crook and her son Noah are believed to have died in the blaze at a house in Chatham on Saturday. Police have not formally identified them.
Police said Mr Muhammadi will appear at Medway Magistrates' Court on Wednesday.
The fire began in the early hours of Saturday at a two-storey terraced house in Chatham Hill.
Three other people - thought to be Ms Crook's parents Mark and Amanda and her brother Bohdan - were also hurt in the incident.
Two other suspects, a 35-year-old man from Maidstone, and a 21-year-old woman from Coventry, remain in custody.
A fourth person, a 37-year-old man from Coventry, has been released on police bail until 24 October.