Norfolk and Suffolk MPs call for rail line investment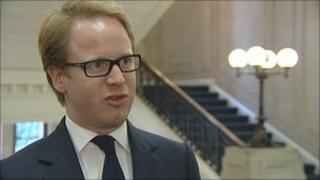 All 15 Suffolk and Norfolk MPs have called on the government for investment in the Great Eastern Main Line.
A letter sent to Transport Secretary Philip Hammond criticises the speed, infrastructure and rolling stock on the line that links the region with London.
Ipswich MP Ben Gummer said it had suffered from "low investment, bad franchises and second hand trains".
"Our constituents are fed up with a service that is expensive but too often late, dirty and overcrowded," he added.
Mr Gummer, who is leading the campaign, said: "We always get left behind in Suffolk and Norfolk.
"We have not had the investment that we need in the railway line for decades it's about time we have our fair share of the cake."
'Historical wrong'
He claimed the region has had similar difficulties with rail improvements for a century but was "putting its marker down" for a slice of planned investment by Network Rail over the next 20 to 30 years.
Mr Gummer added: "We've decided to club together as a group and make our plea as a collection of MPs, all united, cross-party, hoping that if we do that we will right this historical wrong."
"The region is a net contributor to the economy, we produce more then they take out and we need continued investment or else the businesses will go elsewhere."
The Great Eastern Main Line connects London Liverpool Street with Ipswich and Norwich, among other stations.
Mr Gummer is joined in the campaign by his 12 Conservative colleagues in Norfolk and Suffolk, and Norfolk's two Liberal Democrat MPs.