Featherstone reuse football stand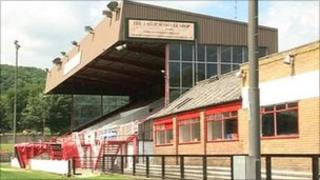 A West Yorkshire rugby league club is to recycle two stands from a derelict football ground 75 miles away.
Featherstone Rovers RLFC will move the stands from the McCain Stadium in Scarborough four years after football was last played at the ground.
As part of the deal, the rugby league club will carry out the demolition of the rest of the Scarborough stadium.
Simon Riley, chief executive of Featherstone, said: "It was as if the stands were designed to fit."
Scarborough Borough Council's planning committee approved the plan on Thursday.
The East and West stands, with a combined capacity of about 2,500, will replace terracing at each end of Featherstone's Big Fellas Stadium in West Yorkshire.
'Piece by piece'
The McCain Stadium in Scarborough, North Yorkshire, was the home of Scarborough FC but the team went out of existence in 2007.
Demolition could now start within a week.
Mr Riley said: "Really it's like a giant Meccano set.
"We will number it piece by piece, move it and put it back together."
He added that it was an "ecologically sound" way of redeveloping Featherstone's ground.
Mr Riley said when completed it would be a "multi-million" redevelopment and increase the ground capacity at Featherstone Rovers from 6,700 to about 9,000 spectators.