Health adviser says days of district hospitals are numbered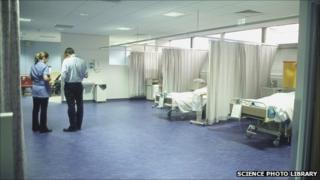 Despite the government's pledge to protect spending on the NHS, there's a stark warning today that an extra £5bn would need to be spent to prevent 40 hospitals closing before 2013.
Tony Blair's former health adviser Paul Corrigan says: "We're already seeing mergers to create super trusts."
But he says: "The problem is that the public are not being told that they will have to travel for better treatment rather than go to a local hospital."
That appears to be the crux of the issue in Eastbourne.
'Bewildering decision'
The local Liberal Democrat MP Stephen Lloyd told BBC South East yesterday that news about plans to downgrade cardiology services at the District General Hospital had come "like a bolt from the blue".
He says he's really concerned about the proposed changes, which would see specialist cardiology services at the DGH only being offered between 8am and 5pm.
In a statement from NHS Sussex they said they will continue to provide 24 hour cardiology services at the Royal Sussex County Hospital in Brighton.
The local NHS will work towards a 24/7 PCI (percutaneous coronary intervention) service at the Conquest Hospital, Hastings, with full implementation no later than April 2012.
This will ensure that if you are having a heart attack at home, whatever time of day or night, the ambulance service will take you to a 24/7 site where there is a specialist team.
NHS Sussex say non-emergency PCI will continue to be offered at Eastbourne District General Hospital.
Stephen Lloyd described it as "a completely bewildering decision by the Health Commission".
He says there are more cardiologists at DGH.
Eastbourne has the largest population in East Sussex and he says that "cardiologists at the Conquest in Hastings agree with their colleagues at DGH that emergency interventions for heart attacks must be dual sighted".
Specialist units
All of this comes after a long running campaign three years ago against plans to downgrade the consultant led maternity unit at the District General Hospital.
The proposals were eventually overturned by the then Health Secretary, Alan Milburn, following an independent review which said it was safer for women to have full services at both hospitals.
Stephen Lloyd and his colleague Amber Rudd, the MP for Hastings, have also continued to fight to retain separate maternity services at both the Eastbourne DGH and the Conquest in Hastings.
But Paul Corrigan says it's time to look at a different model - he says the days of the district general hospital that "tries to do everything for everybody" are numbered.
Instead, he says there should be more specialist units such as the South West London Elective Orthopaedic Centre in Surrey, which was set up by four hospitals to specialise in joint surgery.
But any attempt to close or downgrade hospital units is an emotive issue and always contentious with the public.
Local politicians know that, and if the battle to retain maternity services at two separate sites is any indication, there could be another long fight ahead to save the heart attack emergency unit in Eastbourne.