Measures to help South West Water customers 'soon'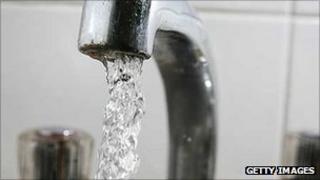 Proposals to help consumers struggling to pay their water bills in the South West may be announced shortly.
Deputy Prime Minister Nick Clegg, who was on a visit to Cornwall, said he was "pretty hopeful that pretty soon" a package of measures would be revealed.
He said the details were still being worked on, but the coalition was determined to help.
The Lib Dem leader said the price of water was one of the issues raised most in his visits to the region.
He described the matter as "very complex", but said the coalition was working actively to do something about it.
"I don't want to sort of over-promise and I can't pretend there's a magic wand," he said.
In March, Chancellor George Osborne announced in the budget that the South West region's bills were "unusually high" and money would be set aside for relief payments - believed to be about £40m a year.
SWW customers' bills are among the highest in the UK.
Since privatisation in 1989, SWW has spent £1.5bn revamping the region's sewage system and cleaning up the coastline.
The South West's coastline makes up 30% of the UK's total, despite the region containing just 3% of the population.
On average SWW customers in Devon, Cornwall, Somerset and Dorset pay £517 per year in water bills. The national average is £340.
Environment Minister Caroline Spelman said in April people in the South West were battling "astronomical" water bills "through no fault of their own".