Union describes tugboat cuts as 'dangerous'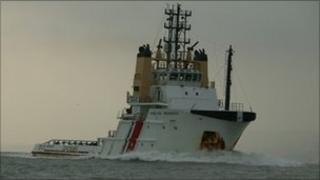 A plan to scrap emergency towing vessels is dangerous, according to a maritime union.
Nautilus criticised the government's cost-cutting plan to scrap the two coastguard vessels which can go to the aid of ships in trouble.
The two south coast vessels are to be withdrawn in a fortnight.
Ministers believe the salvage and clean-up of stricken vessels should be the responsibility of companies and their insurers.
The maritime union said it was a "short-sighted" decision on the Emergency Towing Vessels (ETVs).
Allan Graveson of Nautilus said: "It's like cancelling your house insurance because you haven't had a fire for 30 years.
"Companies are not going to keep tugs loitering around."
A Department for Transport spokesman said: "We continue to believe that responsibility for ensuring the operational safety of ships is properly a matter for the commercial shipping industry, working in partnership with the tug and salvage industries.
"The government has had to take difficult decisions as part of its wider strategy to reduce the fiscal deficit, and it is simply not appropriate for the taxpayer to underwrite a responsibility on operators," he added.
However Cornwall Council has called it a "reckless decision which will have very serious consequences for both the safety and economy of coastal areas such as Cornwall".
The emergency tugs patrol the waters along the south coast and respond to any shipping incidents that threaten the environment.
Four emergency tugs are strategically placed at the corners of the UK coast, Falmouth, Dover, the Northern Isles and Western Isles.
The vessels were introduced in 1994 after the Braer tanker disaster off the Shetland Islands which spilt 85,000 tonnes of oil.
In 2007, the emergency towing vessel Anglian Princess was involved in the salvage operation involving the MSC Napoli.